How to install the plugin

Download the plugin and save it to your hard drive.

Start Joomla, and click on the

Extension Manager,

Upload Package File,

Browse and locate the folder in which you saved paypalpaymentsadvanced.zip




---


Click Upload and Install.

If successful the following message will appear.







Click the link Click here to enable plugin.


This will take you to the plugin manager.


---


Tlick the small red status button to enable the plugin.




---




Click Virtuemart
Payment Methods.
New.

The Payment Name box contains the name that the customer will see.

Type something like "Pay by Credit Card or PayPal".

Select PayPal Payments Advanced - SSC from the Payment Method drop down menu. Tick the Published Yes box.

Then Save.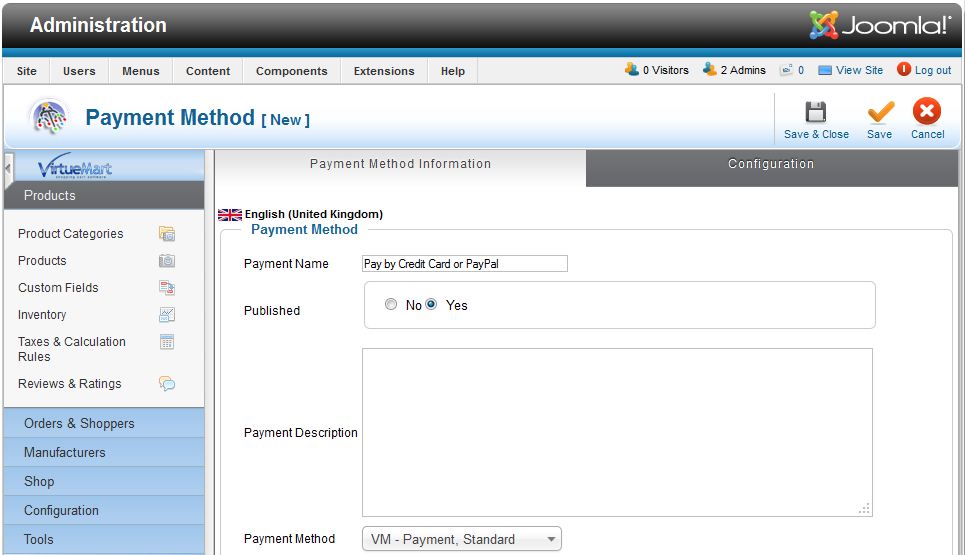 ---



Enter your PayPal API username, password and signature, then save.




---


PayPal Manager:

You must also configure your paypal manager at https://manager.paypal.com.

Below are the mimimum options that you must set up.


---

Setup - Test or Live Mode

Unless you have a live account you will only see the test option here.



---

Add PayPal Express Checkout

To add PayPal as a payment method in addition to credit card payment enter your PayPal email address and PayPal sandbox address if you have one.




---



Silent Post




Set "Use Silent Post" to Yes

Leave "Enter Silent Post URL" blank




---
Purchase this Plugin
12 month user support and upgrades with easy to follow instructions, includes free installation if you can not install the plugin your self.

Screenshots/Download
Screenshoots and overview of the plugin.