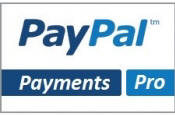 Buy this Plugin
PayPal Pro Plugin for Virtuemart.
Instructions
How to set up and install the plugin.

3D Secure
How to set up 3D Secure.

Recurring Payments
How to set up recurring payments and subscriptions.

PayPal Sandbox/Test Account
How to set up a PayPal sandbox accounts and obtain test API credentials and credit card number.

Change Log
Details of this and previous versions.
PayPal Pro Plugin includes PayFlow, PDS2 and 3DS support
---
| | | |
| --- | --- | --- |
| | | Designed for US, UK, Canadian, Australian and New Zealand PayPal Pro Accounts |
---
Payments can be taken from any country in the world.
Processes credit and debit card payments without the customer leaving the merchant's site.
Supports PSD2 and 3DS (3D Secure).
No iframes are used.
Compatible with One Page checkouts including those from Rupostel and Virtueplanet
Includes one year's user support and upgrades.
Merchants must have a compatible PayPal Pro account from PayPal.
Supports recurring payments and subscriptions, with weekly and monthly options including the ability to set separate initial or trial payments.
---
Screenshots

Customer View


The entire order process begin and ends on the merchant's website.
The customer enters their credit card details directly on to a page on the merchants site.
The billing address is part of the credit card verification process, and so it is shown above the card details where it can easily be edited.
Depending on your template and the layout you choose you may wish to display the shopping cart totals next to the card details.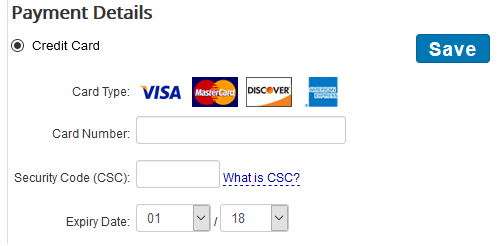 ---

Automatic Formatting of Credit Card Numbers

Spaces are automatically added to the credit card number as the user types them in.
16-digit cards such as VISA, MasterCard, Discover have spaces inserted every 4th digit while 15-digit AMEX cards are auto formatted a 4-6-5 pattern.
This makes the number on the order form match exactly what the user see on their card.


Automatically formatting the numbers in this manner has been shown to reduce card validation errors and increase conversion rates.





---
Automatic Detection of the Type of Credit Card



PayPal Pro can work out the type of a credit card from its first digits, which are unique to each card. The plugin uses these to display the correct logo for the type of card used. The customer does not need to enter which type of card they are using, helping speed up the ordering process. In the example below, a Visa Card has been detected.



---

Customer View: Order Confirmation Page.


After the order is completed the shopping cart is emptied.
A thank you message is shown with the order details, totals and currency used.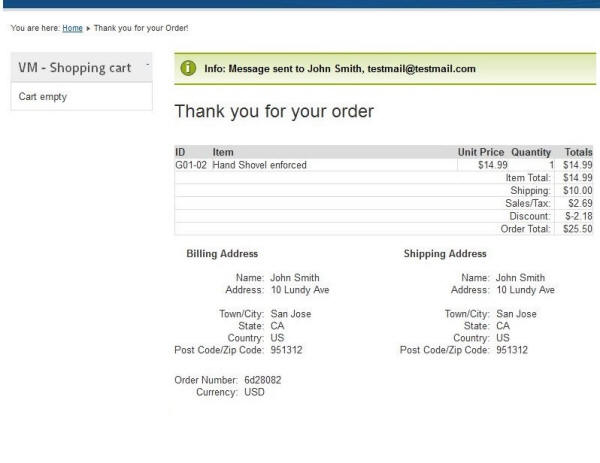 ---

Merchant View Virtuemart Setup and Configuration.

This is set up using the merchants API Username, Password and Signature which can be found in their PayPal account. See details below.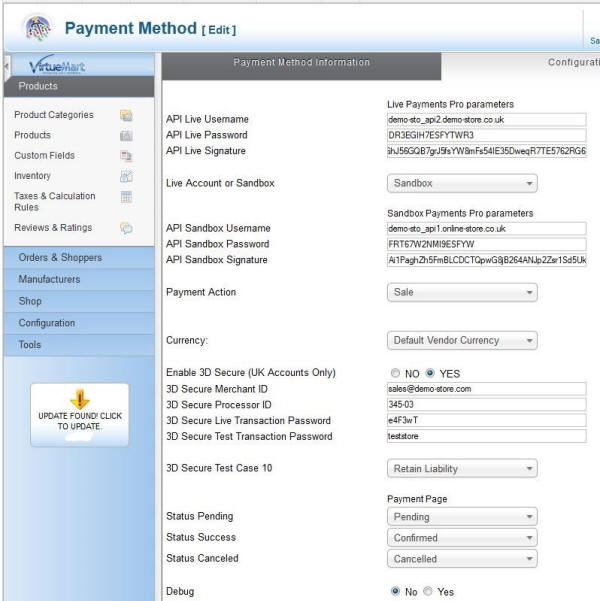 Please note:
Requires a PayPal Payments Pro account from PayPal.
This plugin is designed for US, UK and Canadian merchants only. Customers can order from any country.
---
Finding your PayPal API details
Log in to PayPal.
Click on "My Account" then "Profile".

Look under the "My selling preferences" section
Click update "API Access"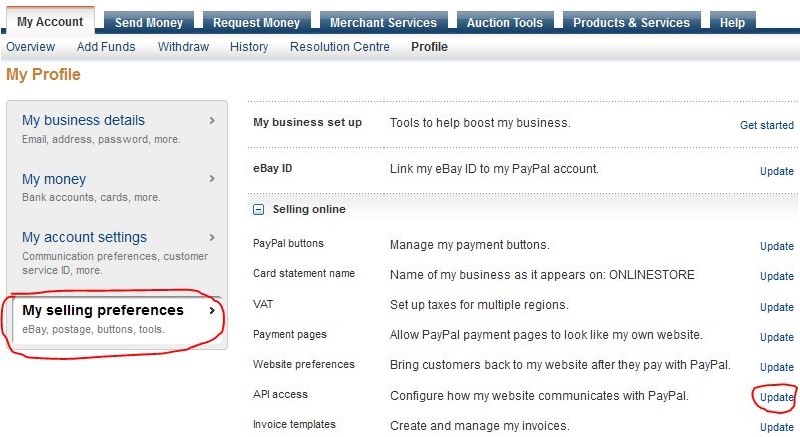 ---
Select "Request API Credentials"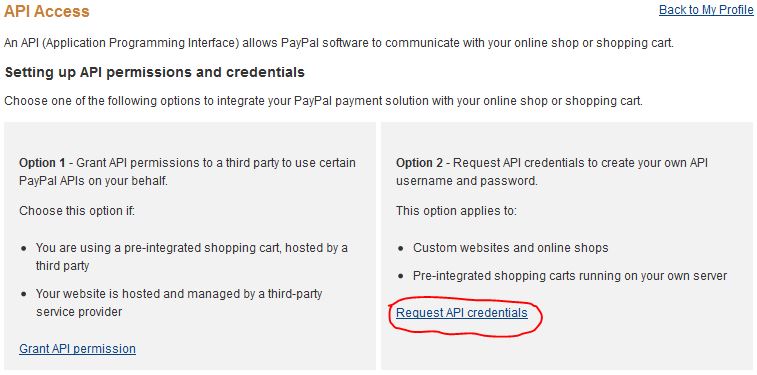 ---
Select "Request an API Signature".

PayPal will then create and display an API Username, Password and Signature.
You can then cut and paste these into the shopping cart setup program.
---
3D Secure
UK merchants should sign up for 3D Secure which makes their store PSD2 compliant.